The HS Series High-Speed Hydraulic System Increases Cutting Speed.
The High speed hydraulic cutting press will achieve 100 cuts per minute for 10mm cutting stroke and 20mm feeding distance to maximize your productivity.
Accurate Servo motor position system saves up to 20% material cost.
Servo motor positioning system maintains positioning accuracy ±0.1mm which can result in up to 20% savings in material cost.
The HS series machine reduces cutting die wear.
The HS machine' extremely robust construction maintains parallelism ensuring high precision punching accuracy which means reduces wear on the cutting dies.
The HS series machine is easy to operate.
Touch-screen monitor with operator/machine dialogue makes user-friendly operation and self-diagnostics trouble shooting.
Interlocked Safety guards with safety circuit to make sure operator in totally safe operation environment.
Range Of Application:
Thin plastic film from 0.02mm, such as LCD、PC、PS、PP、PET、PVC, etc.
Thick foams for electronic, rubber, automotive and packaging industries.
Textiles.
Non-woven felt.
Pressure sensitive materials.
Gasket materials.
Abrasives.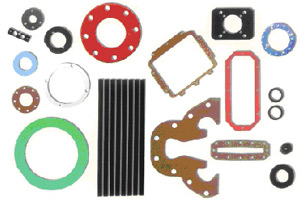 Advisable die layouts with material auto feed can achieve much more yielding output than conventional cutting method and lead to good material saving.
| | |
| --- | --- |
| Die Layout | |
| Cutparts Layout | |
| Quantity of Cutpart | 160 pieces (material size 340 × 405mm) |
| Material Yielding Rate | 93% |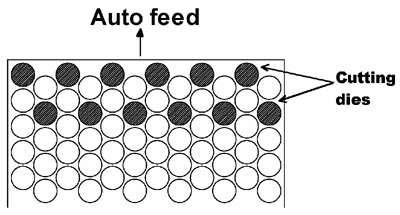 Specification:
Model
HS-30
HS-40
Cutting Force
30 tons
40 tons
Cutting Stroke
130 mm
130 mm
Open Daylight
25–155 mm
25–155 mm
Motor
7.5 Hp
7.5 Hp
Down Speed
52.9 mm/sec.
52.9 mm/sec.
Up Speed
101.7 mm/sec.
101.7 mm/sec.
Capacity
Up to 40000 cuts per 8 hours depending on processing
Cutting Head
500*500 / 650*650 mm
500*500 / 650*650 mm
Dimension
1730L*1480W*2000H mm
1730L*1480W*2000H mm
Weight
3300 KG
3400 KG
◎The above are the basic standard specifications. Special specifications are available upon request.
◎Dimensions and weights are for main machine body only without feeder.
◎Open daylight is measured from beam to bed, effective open daylight need to deduct thickness of die, cutting pad and feeder.