Lean design,1650×1890×2370 mm only!!




*Customization for back-contact cells too.
Why do we need solar cell I/V sorter:
Even cell supplier already sorted the cells and classified by every 0.2% efficiency. The cell efficiency is still possible to change again due to raw material, manufacture technology, machine difference, storage and transportation.
The cell I/V sorter is a machine for PV panel manufacturing
factory to inspect and auto sort the cells. The sorting result
can be used to improve power lose(%) of PV panel
manufacture, or the quality evidence to negotiate with cell
suppliers.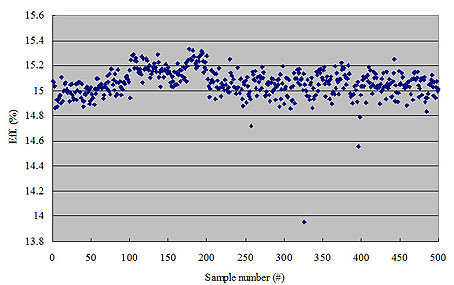 A sorting example from true case:
We sample 500pcs of solar cell from market. The sorting
result shows the distribution of cell efficiency is not as stable as supplier's claim. The statistics data of 500pcs of cells is showed below:
Sample q'ty = 500 cells
Mean Eff.(%) = 15.06%
Standard deviation = 0.11%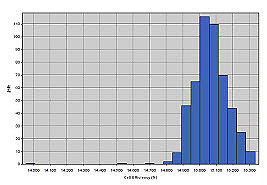 Sorting Process:
User loads the cells into cell loader manually and then push start button, the machine runs
automatically and finish the sorting jobs.
Cell Loader Auto Flash and IV Test Sorting Bins


→

→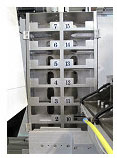 *Option to integrate cosmetic inspection unit.
IV
Tester
Model
PASAN CT801
Sorter
Model
Chinup SCS-1200
IEC Standard
IEC 60904-9
Cell loader
Two boxes, max 1000 cells Per box
Overall Class
Better than Class A
Throughput
1200 cells per hour
Pluse Duration
4 ms
Breakage rate
<0.2%
Light Pulse Stability
<+/- 1%
Dimension
1890(W)×1650(D)×2370(H)mm
Light Distribution
AM 1.5
Weight
1100Kg
Light Intensity
0.7 to 1.2 KW/m²
Power
220VAC/60,50Hz/3-ph,35A,Rating 13.4 KW
Flashtube Lifetime
1,000,000 flashes
Pressure Air
6 kg/cm², 450 It/min